The Scanz News module allows you to keep up with the day's news right as it breaks, so that you can stay on top of the stories that will move the market. Having access to all market news at your fingertips is nice, but you'll need to filter it to just the stories you're interested in to make this information actionable for your trading.
Keywords are at the center of news filter in Scanz. With keywords, you can scan for news from a specific stock or market sector, or keep an eye on cross-industry trends that are shaping the market. Today, we'll take a look at some smart techniques you can use to create unique keyword-based news scans in Scanz.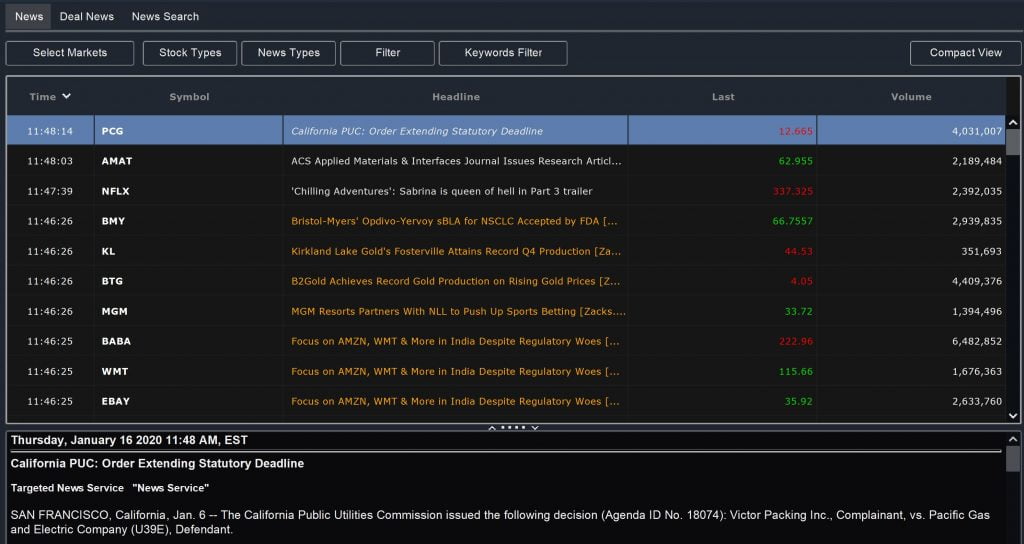 Creating Keyword Lists
Filtering your news feed by keywords starts with creating text lists of keywords. You can type keywords one by one into the Scanz keyword filter. But, you'll have much more success with targeted news filtering if you keep a library of keyword documents that you can easily load into the software.
To create keyword lists that you can import into Scanz, all you need is a text editor. Put one keyword on each line of the document. Then, when you want to bring those keywords into the News module for use as filters, you can use the 'Load Files' function.

There are a few advantages to this approach. First, you don't have to retype your keywords every time you want to, say, check on news around the tech industry. That's a major timesaver and it ensures that you're not leaving out an important company from your keyword list. Second, you can import multiple keyword lists to look at news across multiple market sectors or companies at once. This is perfect for taking a high-level look at news affecting the stock market throughout the day.
Thinking Broadly
When developing keywords for filtering your news scans, it's important to think creatively.
For example, if you're interested in searching for news around a specific company, don't just use the company name and stock ticker as your keywords. You'll also want to include some of the products that the company is best known for, the names of its subsidiaries, and even the name of the CEO in your keyword list. That way, you'll pick up a much wider variety of news stories that mention the company you're interested in.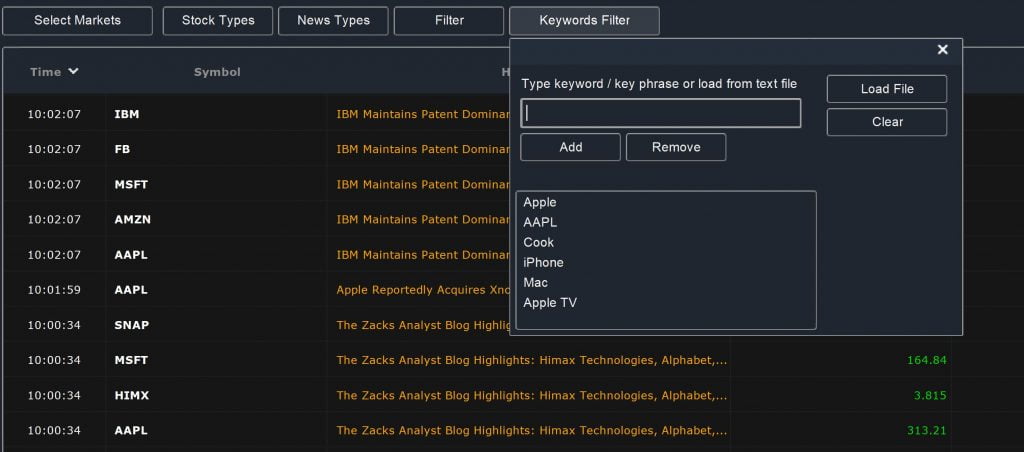 The same applies for developing keywords for an entire market sector. In addition to company names, you'll want to think about keywords that are commonly used in that industry. This may include product names or industry-specific terminology. For example, around the tech sector, terms like "streaming," "cloud computing," or "AI" could help you catch articles that are focused on trends rather than a specific company.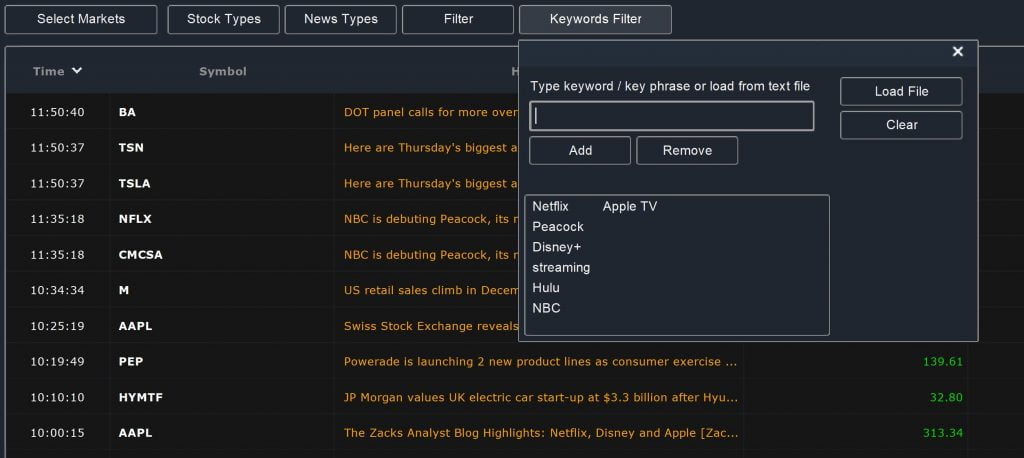 Finding Keywords
How should you figure out what keywords to include in your lists? This is where you'll need to do some research.
The best place to start is by reading news articles about the companies or sectors you're interested in. These are likely to include the names of specific products, industry-wide offerings, and specialized terminology. You might also find analysts or writers who follow a specific company or sector, and you can add their names to your keyword filter to catch any updates from them. In-depth analyst reports can also be a good place to spot useful keywords.
As long as you have your keyword lists saved as text documents, it's easy to continuously add and remove keywords over time to keep them up to date.
Keyword Scan Examples
Let's take a look at some examples of how you might develop keywords scans around different market news.
Specific Companies
Searching for news around a specific company is relatively straightforward. You'll catch most of the news around a company simply by searching for it's name and stock ticker. But, to be sure you get all the news articles relevant to a target company, make sure you include some additional company-specific information such as the name of the CEO or popular products.
For example, to scan for news about Amazon, you could include keywords like:
Bezos
Prime
FireTV
Kindle
AWS

Political or Market Events
You can learn a lot about how the market will react to a political or market-wide event based on the sentiment of the news. Relatively little news about an event might mean that it won't have much of an impact, while some events can be interpreted positively or negatively depending on the spin.
As an example of how to search for event-driven news, here are some keywords you could use to filter for articles about the recent US-China trade deal:
Phase one trade deal
China
Vice Premier Liu
Tariffs

Hot Sectors
Checking for news around a market sector can be useful for identifying profitable trends. This is especially helpful when a sector is seeing increased trading activity, which itself may be partially driven by market news. To find sector news, you'll want to use keywords that include a combination of company names, product categories, and industry-specific terms.
For example, you could search for news around cryptocurrency with keyword such as:
Bitcoin
Ethereum
Blockchain
Digital currency
Buyouts and Mergers
If you want to scan all your incoming market news for buyouts and mergers, you'll need to search for keywords that are often used in stories about these events:
Buyout
Purchase
Merger
Acquisition
Agreement

Uplisting
Uplisting can be good for a stock's trading volume, liquidity, and price. So, there are plenty of opportunities to trade around this event. You can spot news articles about uplisting by using keywords related to companies' financials and the major exchanges:
Uplisting
NASDAQ
NYSE
Market capitalization
Volume
Earnings Reports
It's relatively straightforward to search for all the companies that are reporting earnings on a given day. But, you can use keyword scans to find out which companies are offering reports that are likely to result in a big change in their stock prices. For example, search for keywords such as:
Record revenue
Sales increase
Earnings beat
Earnings miss
Upbeat guidance
Biotech Industry
The biotech industry has its own unique set of terminology. That's helpful for keyword searches, since you can use these biotech-specific phrases to spot companies that may be on the verge of a significant price movement:
FDA approval
Priority review
Regulatory approval
Clinical testing
Gene therapy
Don't forget you can also search individual drug names or to better target specific companies with your keywords.

Combining Keywords with Trading Data
Keyword filters are most effective in Scanz when they're combined with filters for trading data, such as price, market capitalization, volume, and more. A good example of this is using keywords and volume together to identify stocks that may be attracting more trading activity than usual as a result of news. The $Volume filter is especially helpful here, since it allows you to examine trading volume without consideration of stock prices.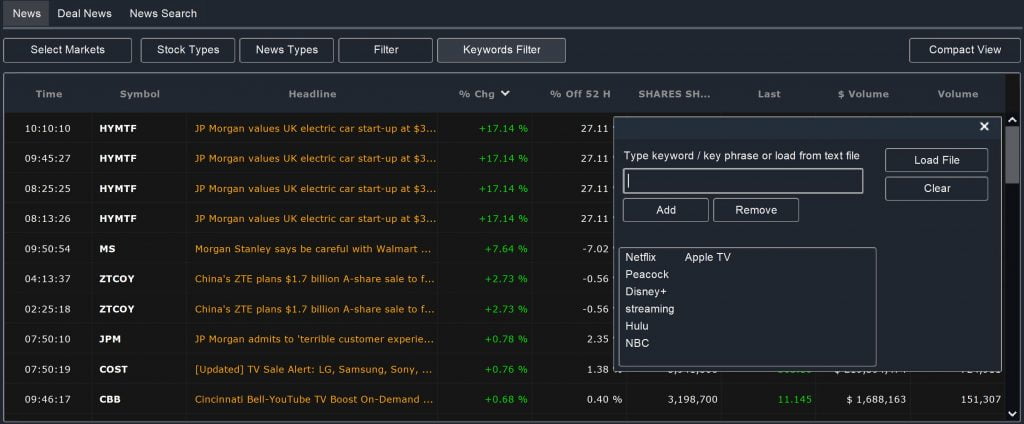 Alternatively, you can add columns to the News module results feed to sort news articles based on the price change or trading volume of the subject companies. That way, you can focus on news articles – filtered to a specific sub-sector or market trend using your keyword list – that highlight companies sporting big gains or losses on the day. Sorting your news feed by trading data also allows you to quickly find news around companies that are setting new 52-week highs and lows, or that have unusually high or low short interest.
Putting Keywords to Work for You
Filtering your news feed in Scanz using keywords is a powerful way to ensure that you're seeing the news articles that are most relevant to your trading.
Keeping keywords in text documents allows you to easily add and subtract target keywords over time as companies offer new products or new industry trends develop. At the same time, make sure to take advantage of Scanz's trading data filters and additional columns to augment your keyword filters.
With keyword-based news scans, you can catch developments in the market as soon as they happen – and profit as a result.