The Easy Scanner module is designed to give you a quick look at the marketplace so that you can identify hot stocks irrespective of a particular strategy. The scanner takes in a ton of data in real-time, however, so you'll need to do some work ahead of time to set it up in a way that works for you.
Let's take a closer look at some ways you can use the Easy Scanner's tools to make actionable trading data available at a glance.
Getting Started with the Easy Scanner
The Easy Scanner gives you a lot of different options. To start, you can look at multiple markets and stock types. From there, customizable columns allow you to add real-time market data, fundamental data, and a large selection of common technical indicators. Simply right-click to add or remove columns, click and drag columns to rearrange them to your liking, or click on the column header to sort data by that parameter.
Depending on what types of stocks you're looking for, you'll probably want to start out by setting some basic filters in the Easy Scanner. For example, you can limit your scans to just medium- and large-cap stocks using the Market Cap filter, as well as narrow down to only those stocks that are in your target price range. If you trade small-cap or penny stocks, the volume filters can come in handy to avoid looking at illiquid stocks.
Easy Scanner Setups
Now that you've got the Easy Scanner basics down, let's look at some potential ways you can set up the scanner to your advantage.
Quickly Compare Markets and Sectors
One of the best things you can do with the Easy Scanner is get a quick overview of how different markets and sectors are performing in real-time. To accomplish this, you'll want to open two or more scanner windows, move to the Sectors tab, and pick out two different sectors of interest. Sort by % Change, and you can quickly compare the day's gains across industries.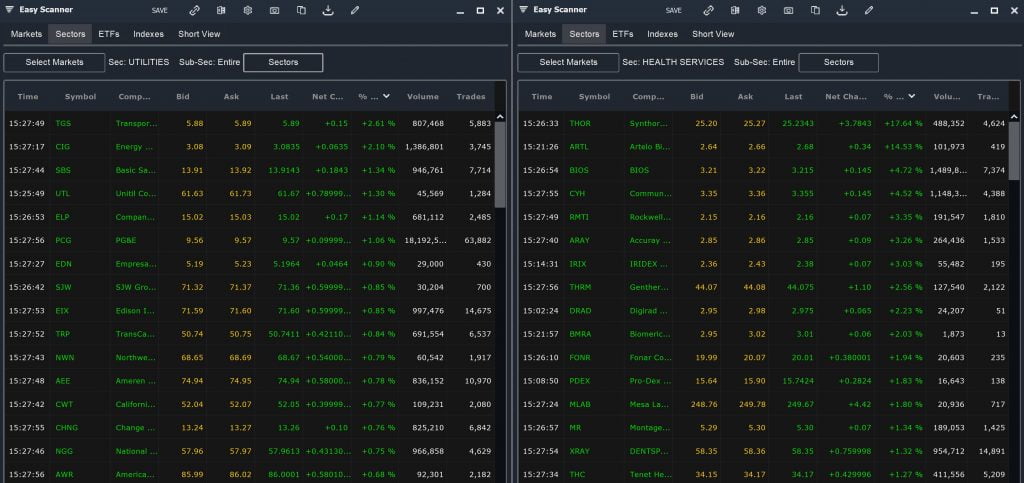 Alternatively, you can use the same split-screen setup to compare large-cap stocks and penny stocks. Use the Current Price filter to limit one scan to penny stocks, and use the Market Cap filter to limit the other scan to large-caps.
These are just a few examples of how you can use two or more Easy Scanner windows to your advantage. There are almost no limits to the fast comparisons you can make using this setup.
Find Hot Stocks in a Trending Sector
Is a specific sector like healthcare or tech being pushed up on breaking news? You can use the Easy Scanner's Sectors tab to quickly pick out stocks that are moving the most. Alternatively, this is a good way to look for stocks that are moving against the grain of other companies in the same industry.
Keep an Eye on Volume
The Easy Scanner offers a number of ways to look at trading volume.
The Volume column can be misleading, since it doesn't account for differences in stock prices – a $5 stock should have more trades placed than a $100 stock for the same total money moved. The $ Volume column helps you smooth over these differences in share prices.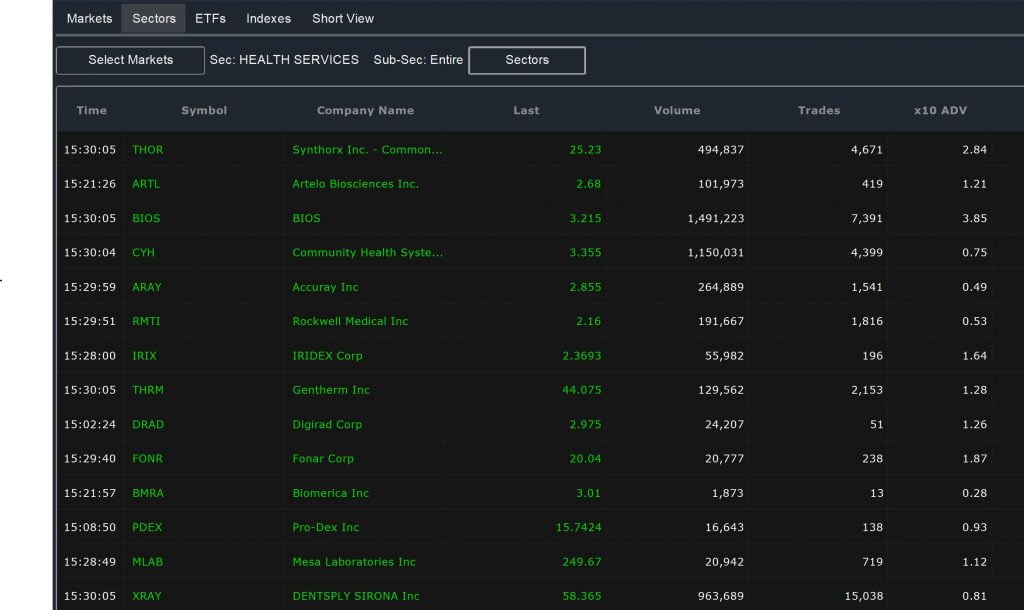 If you want to know if a stock is trading above or below it's average volume, you can add data about Average Daily Volume. The multiplier statistic is best here, since you can see whether a stock is trading above or below it's average volume at a glance.
To find the most liquid stocks, try the Trades column. This shows how many trades have been made, regardless of the number of shares bought or sold per trade. It's also a good tool to help quickly spot the day's hot stocks.
Find Stocks on the Move
You can also use the Easy Scanner to spot stocks that are rising above or falling below their recent trading ranges. There are a couple options here, starting with the Simple Moving Average Multiple. This allows you to sort stocks that are flying high above their long-term averages or trending in the short-term.
The Multiday Change column can help here, too. This column is great for finding stocks that are trading strongly up or down. In earnings season, you can use the Multiday Change column to look for companies that are seeing big price movements in response to their financial reports.
Check Intraday Pricing
The Easy Scanner's High, Low, Open, and Last columns can be used together to paint a picture of how a stock's price has moved throughout the day. For longer-term information, you can also add columns showing the 52-week high and low, or the stock's percentage off the 52-week high and low.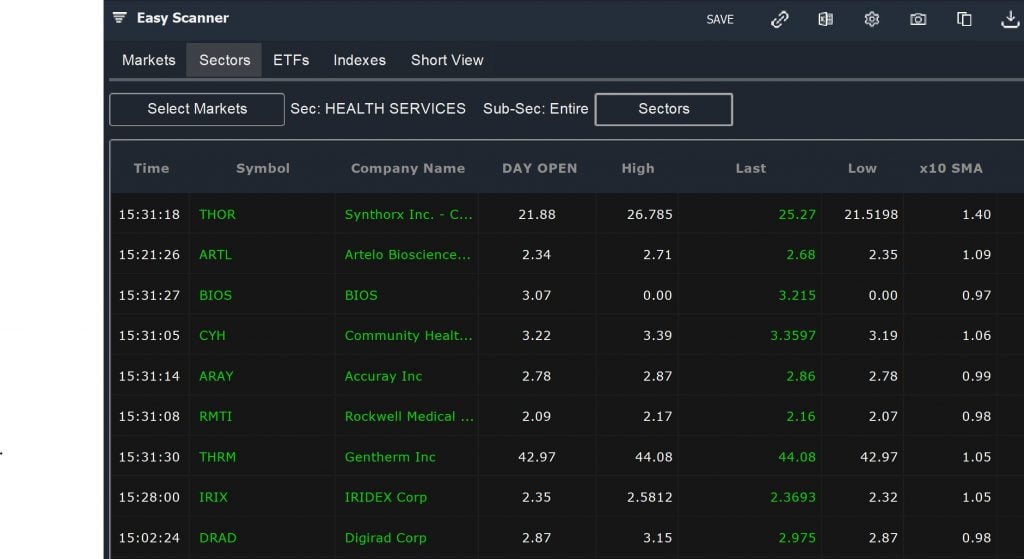 Look for Intraday Swings
The Easy Scanner offers a potent tool for swing traders and scalpers: the Intraday Change column. You can use this column to scan for stocks that are making big moves over small timescales, which potentially indicate the start of a breakout or reversal.
Find Momentum Stocks
Using the Easy Scanner to find momentum stocks brings in a lot of the scanner's available tools. Start out by looking for stocks that are experiencing price swings on the timescale that matters most to you. You can sort by Simple Moving Average Multiple, Multiday Change, or Intraday Change. Then, add in a volume column or tighten your volume filter to narrow the scan down to just those stocks that have high trading volume supporting the price movement.
You can even pull in indicators to confirm momentum. Parabolic SAR, MACD, and RSI are all available as technical indicators to be added to the Easy Scanner results.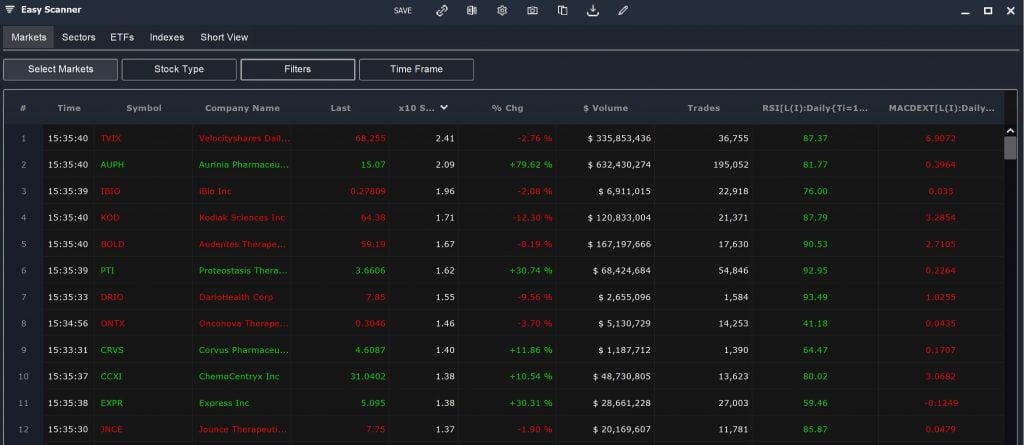 Identify Market Tops and Bottoms
Indicators like RSI and MACD can also be used to identify potential market tops and bottoms. Use the % Change filter to find stocks that have gained or lost more than, say, 5%. The sort by $ Volume or another volume metric to look for stocks that may be losing steam. The RSI and MACD metrics can help confirm that the momentum behind these stocks will soon wear out.
Conclusion
The Easy Scanner is a fast and versatile tool that allows you to get a quick overview of the market. When set up properly, the Easy Scanner can help you momentum stocks, stocks that are ripe for swing trading, and more. Don't be afraid to open multiple Easy Scanner windows, as this can help you compare across market segments and sectors.